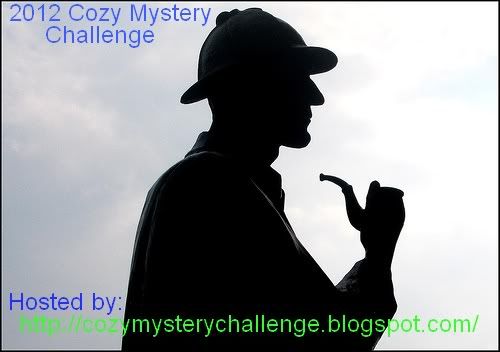 April 1st, 2012 - September 30th, 2012
Here are the rules:
1. The challenge runs April 1st, 2012 through September 30, 2012.

2. The goal is to read at least 6 cozy mysteries, one for each month. You can choose to read more, but you must read 6 in order to complete this challenge. You don't have to read 1 each month, you can read them whenever you like, you just have to read at least six.
There are three participation levels for this challenge:
Only the required amount - 6
I think I can do better - 7-10
Feeling very ambitious - 11+

3. While you can overlap with other challenges, please try to have at least 2 of the books only count towards this challenge. However, if you are doing a challenge where you are working towards a page count or book count, it's ok to count these books towards that challenge.

4.Sign-up using Mr. Linky. While it would be great if you signed up before April 1st, you can sign up anytime between now and September 1st.
5. You do NOT need a blog to participate. If you do have a blog, I would love to see a dedicated post linking back this post, but that's not required either.
6. You do NOT have to list the books you plan to read ahead of time, although you can if you want to (and the list can change throughout the challenge).
For more information and to sign-up, please see this post.