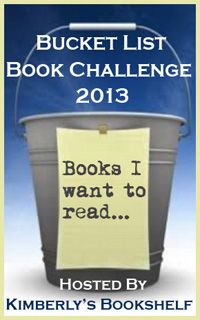 January 1, 2013 – December 31, 2013
As we approach the beginning of a New Year, I can't help but think of all the books I want to read. Not just the upcoming releases, but also those books that I feel "I Should Read" whether it be a classic, or a Pulitzer Prize winner, or perhaps by an author nominated for the Nobel Peace Prize in Literature. So, as I sit here looking out the window at what has now been classified as a "blizzard warning", I've decided to begin a "Bucket List" of all the books I want to read. And in so doing, I've also decided to host my first reading challenge...The 2013 Bucket List Reading Challenge!
Here are the challenge details:
1. This challenge will begin on January 1st, 2013 and end December 31, 2013. On January 1st, 2014 I'll announce three lucky participants who will each receive a free book of their choice (from their own bucket list of course).
2. Choose a level. The books chosen for this challenge should include any combination of Fiction such as the Classics, Pulitzer Prize recipients, Nobel Peace recipients, or other forms of noteworthiness as well as Non-Fiction. A good place to start is by browsing the many lists of "great books" on Good Reads or the Pulitzer website. It's all up to you...it's your "bucket list"! However, the books for this event may not include books released during 2013.
Levels:
Inspired: 6 books
Committed: 12 books
Tenacious: 24 books
3. This challenge can cross-over to your other reading challenges.
4. You do not need a blog to participate! If you are not a blogger, you can post your reviews at Goodreads, Shelfari, or LibraryThing and link them up here.
5. All formats of books are acceptable: Bound copies, e-books, and audiobooks (as long as they are unabridged).
6. I will add an additional linky to this post for your reviews beginning January 1st.
7. Create a sign-up post and link back to this post (please share a few of your "bucket list" titles as well). Sign up with Mister Linky below! Be sure to use the direct url to your sign-up post and not the url to your blog.
8. Grab the challenge button and post it in your sidebar.
This reading challenge is hosted by Kimberly's Bookshelf. For more information and to sign-up, please see this post.