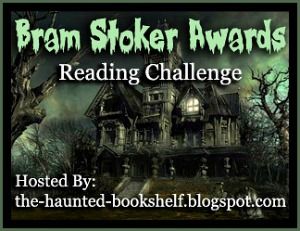 June 1, 2014 – December 31, 2014
On Saturday May 10, 2014 the Horror Writers Association awarded the 2013 Bram Stoker Awards®. With over 50 nominees spanning across 11 categories, HWA members diligently chose one winner from each category. After reviewing the complete list of nominees and adding titles to my ever-growing list of Books To Read, I've decided to host my first reading challenge!

Challenge Levels:

2-4 Books: Afraid Of The Dark

5-8 Books: Sleeping With The Light On

9 or more Books: Terrorized Insomniac

Guidelines:

Post your plan to participate in this challenge on your blog using the above graphic. Include a link to your post in the linky sign-up below. If you do not have a blog, use your GoodReads profile link and be sure to create a bookshelf for this challenge. Please note, you do not have to choose your books now. Last day to sign-up will be JUNE 18TH.
During the challenge, you must choose books from the list of nominees (not just the winners) for the 2013 Bram Stoker Awards®. CLICK HERE for a complete list. Audiobooks are acceptable as well for this challenge and your choices may cross over to other challenges you're participating in.
Each month of the challenge, beginning with June, I will post a link up for your reviews and upon the close of the challenge, I'll have a separate link up for wrap-up posts as well.
During the challenge I'll also host special events such as Twitter Chats, Read-a-longs, Giveaways, and perhaps a Read-a-thon as well. Be sure to follow my blog and watch for monthly announcements!
When I post the final wrap up linky, I'll be including a list of prizes for randomly chosen participants.

Please be sure to share this challenge on Twitter and Facebook...the more the scarier!
This reading challenge is hosted by The Haunted Bookshelf. For more information and to sign-up, please see this post.