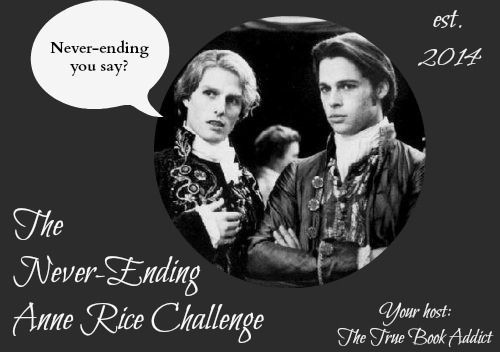 Perpetual
You can read more about why I started this challenge on the welcome page, but basically I decided to host it because I want to challenge myself to read more of my favorite author. I have been neglectful of reading her books of late and I'm WAY behind on her Vampire Chronicles. With a new Lestat book coming out soon, my being behind simply must be remedied.

This is really a long term challenge where we read or reread Anne Rice's works.. so no real deadlines. You can set your own personal deadline or goal. For instance, I'm thinking about challenging myself to read three of her books yearly, or I might change that. Something to consider. Your goals can always change. To help things along, we may have some read-a-longs here and there. Anything goes with this challenge.
This reading challenge is hosted by The True Book Addict. For more information and to sign-up, please see this post.