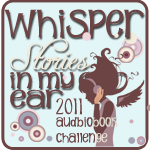 January 1-December 31, 2011
Truly, we are really
really
excited about this challenge.
We're pretty sure that there a times during the day where you can't read, where you can't hold an actual book in your hands, am we right?
This might be when driving.... or when working out.... or when doing housework as boring as cleaning/laundry etc... or when having a walk alone outside....or even during work?
(It's okay, we won't tell! *wink*)
Of course we are all avid readers and would love to have time to read even more.
Why not
listening
to the book instead of
reading
it? Simple and oh so easy!
Here is the basic information:
Should you choose to participate in this challenge, your goal is to read at least twelve (12) audiobooks (no matter the length). Twelve is the minimum to be entered in the Grand Prize at the end of the Year.
Of course anyone can join. You just have to live on the planet earth, (meaning, this is an international challenge and contest) and you need to have either a blog where you can post your Reviews, or you need publish your review anywhere else, goodreads, LibaryThing, amazon, Barnes & Nobles, audible, etc etc etc...
Important: When you post your Review you have to say that you listened to the audiobook version of the book, who was the narrator, the length of time the audiobook ran and your separate rating/impression for the audiobook (how you liked the narration of the story beyond what you thought of the story itself). This can be at the end of your regular review, just like this example here.
You can pick the audiobooks as you go (no need to decide right now), but if you have already an idea what you're planning to listen we would absolutely love to know!
To join, go to
"Whisper Stories in My Ear" 2011 Audiobook Challenge
.