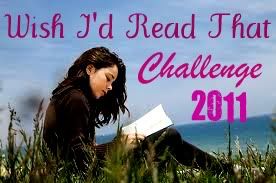 January 1 - December 31, 2011
This challenge is for all those books you wish you'd read. I think I have a list of more than 200 books I want to read and it increases everyday! I am sure I am not alone , in this case...
These don't have to be books you currently own, you can buy them, borrow them or beg for them. This is a great challenge for getting those TBR piles reduced. So go have a look at what you might read and challenge yourself.
Challenge Guidelines:
*You can join anytime between now and Dec 31st 2011*1.
Anyone can join. You don't need a blog to participate.
--Non-Bloggers: Include your information in the comment section.Non-Bloggers can post their review on sites like Goodreads, Librarything, Shelfari etc
2. There are four levels:
-- Curious – Read 3 books.
-- Fascinated – Read 6 books.
-- Addicted – Read 12 books.
-- Obsessed – Read 20 books.
3. Any book format counts.
4. You can list your books in advance or just put them in a wrap up post. If you list them, feel free to change them as the mood takes you.
There were will be
TWO
randomly selected participants who will win a $10 Amazon Gift Certificate. The 1st winner will be chosen at the end of 6 months , on 1st July and the 2nd winner will be chosen at the end of the year 2011.