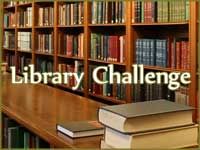 January 1, 2012 – December 31, 2012
General Rules
1) This challenge will run from January 1, 2012 through December 31, 2011 – this means for a book to qualify for this challenge you will have to start it on or after 1/1/12 and finish it before 12/31/12.
2) Books read for this challenge my be used to meet the requirements of any other reading challenges you are participating in.
3) You must complete the main monthly challenge. All mini-challenges are optional.
4) You may join the challenge at any time during the year.
5) It's okay to read a book you've read before. Just make sure you are reading it again in 2012.
For more information and to sign-up, please see this post.